Welcome by David Lucas - Executive Headteacher
I am very proud to address you as Executive Headteacher of this unique 'all-through' school. Trinity is a warm, welcoming, friendly school where all pupils are happy learners. Your child is the most important person to you and to us. Every child deserves the best possible start in life and nothing is more important than a good education. Please click HERE to see more.
---
MUSIC LESSONS
Trinity music department offers a unique opportunity for its pupils to learn a musical instrument at an extremely attractive cost. Click on buttons below for me information.
End of term / start of term arrangements
Please see our newsletters for up to date information. Friday 19th July is our last day of the academic year. It will be a shortened day - the usual end of term arrangements.
The new year R and year 7 pupils will have an induction day on Tuesday 3rd September. A separate letter has been issued with details with regards to this as the timings are different to the normal timings of the school day.
All pupils are to return to school on Wednesday 4th of September for a normal full day. The school day starts at 0845 throughout all phases - this is the time pupils need to be in their classrooms, so they should arrive no later then 0840 to ensure they are ready for learning.
Have a great summer holiday . . .
New Parent Governor Elected
Trinity welcomes Sam Carew to the Board of Governors as our new Parent Governor.
Consultation on the timing of the school day
We wish to thank all parents and members of the school community that responded to our consultation on the timing of the school day which finished at 12 noon on Friday 8th February. We had 472 responses to the consultation via the box in each of our reception areas and from emails. Responses were from parents, teachers, child-minders and other local representatives. On Wednesday 27 February 2019 the full governing body considered all the responses in full, discussing the different possibilities. All responses were tabled ensuring all voices were heard. We had 218 responses in the Primary box (out of 340 pupils), 58% wanting a change, 43% to 0830 and 16% to 0845 (rounded to the nearest whole number). 91% of the responses in the secondary phase wanted to remain at 0830. It is important to note that 215 responded in the secondary phase out of a possible 600. We also had 39 separate email responses from across both phases that we considered. We did not just consider the statistical outcomes from the consultation but also all the varied comments made by many individuals, comments from pupil voice and the opinions of staff.
After a lengthy discussion it was decided that from 1st September 2019 onwards the timing of the school day across both the Primary and Secondary phase would change and become a 0845 start with a 1515 finish time. This would mean there would be a 15-minute change to the start and end times at both phases. Giving notice now ensures families have 6 months to make the necessary changes and alterations to current routines.
The key determining factors for making this decision were:
We felt students would benefit hugely from the timing of the school day matching across both the primary and secondary. They would benefit from more through school enrichment opportunities, joint after school projects and clubs as well as events during the school day.
It was also agreed that the provision of education would be enhanced if staff were able to collaborate further across the two sites with a matching timetable.
Trinity School will now have matching school days, calendar of events and training events.
We understand change can cause some disruption but decided on a 15-minute change, which will support the continual improvements we are making, to avoid a dramatic change to people's routines. It will also mean pre-school clubs and the wrap around service will continue in a similar pattern to now. The Secondary site is open for pupils from 0730 to come and study in the atrium which we hope will continue to support families that drop off and pick up. We also felt that delaying the end of the secondary phase day by 15 rather than 30 minutes should not have too great an impact on children travelling home as it becomes dark in the winter.
Once again thank you for your continued support. Trinity is an amazing school and growing tighter as a family.
Hot weather
Please make sure your son / daughter dresses appropriately during the summer months. They should still wear the full school uniform, including the blazer for the secondary pupils. Teachers will allow pupils to take these blazers and jumpers off if it is extremely hot. It is vital that pupils keep hydrated and drink as much water as they can. Please ensure they only bring in plain water in clear plastic bottles.
---
Internet Safety - London Grid for Learning
Keep yourself safe when online! There are many documents to help parents manage online activity through the London Grid for Learning website. Click HERE for more information.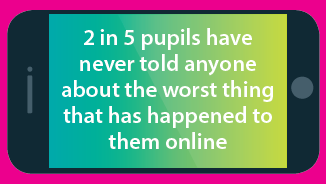 For additional information from National On-line Safety can also be found on their facebook page Facebook: https://www.facebook.com/NationalOnlineSafety/photos/a.1681508315488685/1914184988887682/?type=3&theater