Pupil Outcomes / exam resuslts
This is the first year we have year 6 and will get KS2 results at the end of the academic year. Please see the primary section for further information.
Secondary Exam Results 2018 / 19
We are extremely proud of our pupils - please find a summary of our exam results below. Some key highlights include:
100% of pupils taking Computer Science achieving grade 7 or above (Grade A or higher)
100% of pupils taking French, Portuguese, Chinese and Polish achieving grade 7 or above (Grade A or higher)
Out of all the subjects taught we wish to draw your attention to the following 16 including English, Maths, Science and RE getting a grade 4+ (equivalent to a C) or higher:
100% Food and cookery
100% Craft
100% Health and Fitness
86% Biology
87% Chemistry
82% Physics
72% Statistics
68% English
67% Geography
65% RE
65% Maths
We also had great success from Art, History, Spanish and PE.
We also have pupils study for qualifications that do not appear in the Progress 8 or Attainment 8 tables, as they are specific qualifications. This includes Latin, Finance and Additional Maths (which is an A Level bridging course). We also offer home languages as a qualification for pupils who are multi-lingual.
Individual results that were fantastic include:
Regardless of their starting point from their KS2 SATS results, the vast majority of pupils made progress during their academic journey through to the end of year 11. The government's benchmark measure of Progress 8 (P8) gives an overall numerical figure for the school for this progress from KS2 but it does not take into account any contextual background information or personal circumstances for any pupil.
At Trinity we pride ourselves that we take a holistic view of everything that we can offer a child in addition to their exam results and no matter how challenging the circumstances, we ensured that all pupils had a good post 16 provision that suited their needs to go to.
Our range and variety of post 16 provisions continues to grow this year. Pupils are making informed choices about the places they move on to. As a result of the personalised progression pathway programme, we are seeing pupils choose a variety of post 16 options which best suit their needs, their learning style and their plans for the future. We had several pupils compete for a place at Lancing college, which is a prestigious sixth form boarding school in Brighton. We usually only get one place offered but due to the excellent calibre of our pupils two Trinitarians have full scholarships. On top of this we had a further 13 pupils go on to gain either scholarships or gain places within selective sixth form institutions. The majority of pupils go on to study A levels and all our pupils have destinations post Trinity. Our support for our pupils continues even after they have left.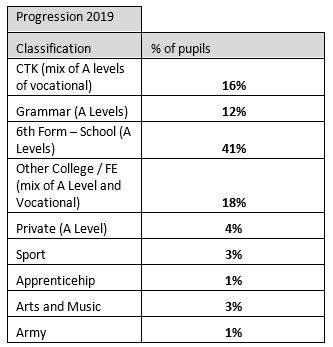 Secondary Exam Results 2017 / 18
Trinity pupils rose to the challenge of the new more academically rigorous GCSE exams in all subjects this year by achieving some excellent results across a wide range of subjects. A comprehensive school, Trinity has a true mix of pupils ranging from those who are academically able through to those that struggle with reading and writing. Support and intervention is specific to each individual. As a small school we are able to tailor the support to meet the needs of each pupil. For the link to the Department For Education (DFE) data site please see the bottom of this page.
Destinations data shows for the third year in a row we have 25% of our cohort moving on to grammar schools and take up scholarships at Independent schools. Around 70% go on to study A Levels and the rest go on to do a mix of apprenticeships, Level 3 vocational qualifications and combined A Level and vocational courses. We support pupils in their choices.
A8 (Attainment 8) comes out at 46.4 which is above the England average and that of Lewisham.
P8 (Progress 8) is significantly better than last year and in-line with National Average. The provisional data indicates that we are within the statistical average for England with a score of -0.13. This does not include all our exam results and all of the remarks - where our internal data set has this data uploaded indicates we are +0.06. You can compare us with national data sets using the link at the bottom of this page.
English 4 + = 76% English 5+ = 58%
Maths 4 + = 78% Maths 5 + = 54%
English and Maths 4+ = 71% English and Maths 5+ = 42%
English Baccalaureate (Ebacc) - 70% were entered for the Ebacc suite of qualifications. This includes English, Maths, Science, either History or Geography and a Modern Foreign Language. Average Point Score (APS) was 4.3.


Individual subject success
| | | |
| --- | --- | --- |
| Art 4+ = 68% | Physics 4+ = 95% | RE 4+ = 65% |
| Biology 4+ = 91% | Computer Science 7+ = 100% | History 4+ = 65% |
| Chemistry 4+ = 91% | Music 4+ = 83% | Statistics 4+ = 100% |
Individual pupil success
Two students achieved five Grade 9's and three Grade 8's. One has a full scholarship at the City of London School and the other secured a place to study 4 A Levels at a local grammar school.
Another achieved four Grade 9's and five Grade 8's – he has a full scholarship to Colfes.
12% of the whole year gained a selection of grade 9's (highest achieving grade- top 4% of the country) as well 21% of the cohort achieving a selection of Grade 8 qualifications. Grade 7 is equivalent to the old grade A – and we had 41% of the cohort get at least one grade 7or higher.
We have 3 pupils who achieved the highest grade in the Free Standing Maths Qualification (which is at the same level as A Level maths) - all of which have sixth form places in independent or grammar schools.
This is just a selection of the successes we had this academic year. We work tirelessly to ensure all our pupils have a secured destination and we follow their achievements as they progress post 18. From two years ago we have 2 pupils going on to Cambridge University, with a further large group moving onto Russell Group Universities – including some going onto Medicine. We have also heard about numerous past pupils securing apprenticeships and jobs after sixth form. Our pupils' successes prove that they truly are terrific Trinitarians.
Primary Outcomes
Please click on the link at the bottom of the page to compare our results with national data for both Primary and Secondary. If you wish to see our internal primary data please click here.
Secondary Exam Results 2016/17
We are extremely proud of the successes and achievements of all our pupils. All have gained places Post 16, many at Grammar and Independent (a quarter).
5 GCSE subjects (including English and maths) above grade C (new grade 4) = 64%. [Grammar stream = 100%]
Proportion of students getting A-C in both English AND maths (4+) = 69%
Proportion of students getting A-C (grade 4 and above) in English= 78%
Proportion of students getting A-C (grade 4 and above) in maths = 78%
Proportion of students getting 5+ A*-A grades = 18%
57 grade 8 and 9's (equivalent to A* and higher) in English and Maths – the grade 9 is achieved by the top 3% in the country.
Attainment 8 = 46.33 = C+
Progress 8 = -0.43 for the whole year group. As a small school the impact of a very small number of pupils can be disproportionate on the whole school outcome. If we were to remove 5 pupils with specific circumstances then our P8 becomes -0.09 . We are a comprehensive school where we take pupils from a wide spectrum of abilities. Our curriculum stretches all pupils irrespective of their starting point.

Primary School results - Click here
DFE Performance Data - if you click here you will be taken to the national data set for you to be able to compare us with all schools nationally. This includes Primary, Secondary, attendance and workforce information.