February update
A huge thank you to all our families for your continued support. We are still awaiting the government announcement about what will happen on and after the 8th of March. To ensure we are prepared we are looking at moving our INSET day that is set for April 19th (first day after the Easter break) forward to Wednesday 3rd of March. This way the staff will get time to plan and prepare for what needs to be put in place ready for the 8th of March. The Monday 19th April will convert to a normal school day. This has been put in our Newsletter to give as much notice as we can. Sorry for any inconvenience caused.
During half term please remember you can contact the school on the email: admin@trinity.lewisham.sch.uk. Any questions, or to report any illness / Covid positive cases please use this contact to ensure we can continue to operate our Track and Trace process. Please see the newsletter again for more detail.
All FSM families should have received in the post a voucher to use during half term as well.
Remote Learning offer
Please click HERE to see the Trinity School Remote Learning offer.
For a summary of the different parts of our provision please click on the diagram below which is a PDF showing what our primary and secondary offer (on separate pages) comprises. If you have any questions please do contact us.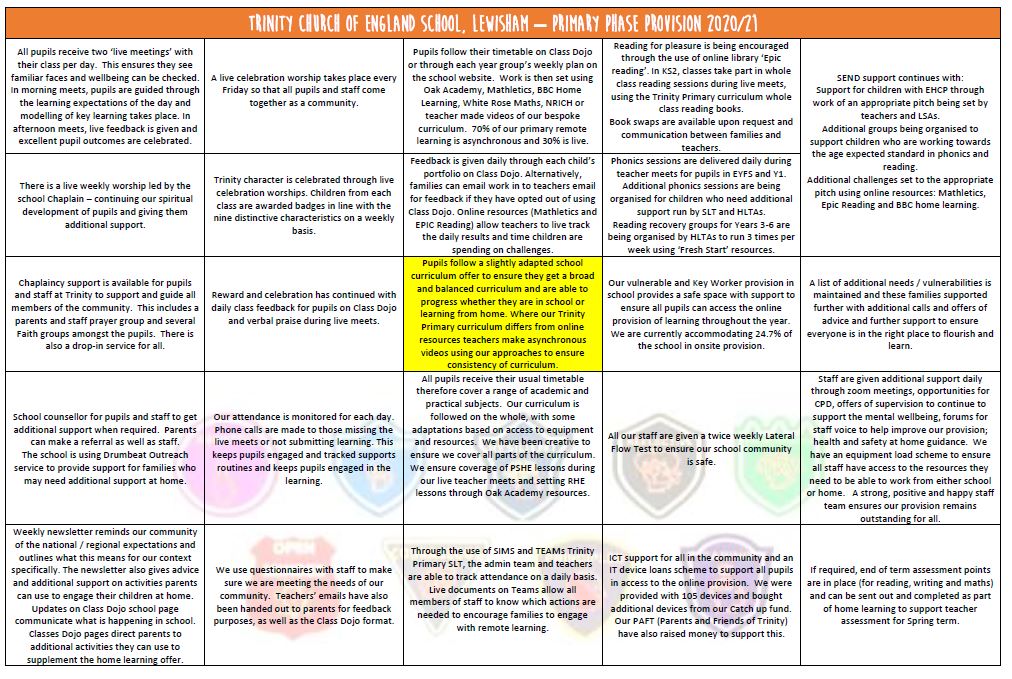 New Year: 2021
We hope you have had a relaxing Christmas Break. The government has just made some new announcements and we are currently planning to ensure we address all the points raised. We will send text's out to our families to update you if we need to make any changes.
January start
After a further announcement the whole of London is being treated as one area so our Primary Phase will now have remote learning starting from Tuesday 5th of January. The proposed end date of this is Monday 18th January - but this may change. Learning for the Primary Phase will be via ClassDojo and Zoom lessons. We will keep you updated. For those in year 7, 8, 9, 10 and 11 the government have asked schools to run learning remotely from the first week. This is a slight change, year 11 will now also be learning from home during this first week. That means lessons will be live on TEAMS for all year groups who should be at home. Year 11 pupils will then return fully back into school starting Monday 11th of January. The rest of the secondary phase is expected to return to school on Monday 18th of January. If you are a key worker or feel your child is vulnerable and needs to be in school then please do email us before Monday the 4th of January with your details (admin@trinity.lewisham.sch.uk). We will get back to you on Monday 4th of January to explain the arrangements ready for Tuesday when we will expect them in school. They will be issued a lap top and will follow all the live TEAMS lessons from one of our classrooms with a TA supporting them.
Lateral testing at Trinity
We are working with Public Health England on setting up the lateral testing within Trinity. This is for the secondary phase only to start with. Training will be provided for this testing, and only where permission has been given will testing be carried out weekly within the school. Permission letters will be sent out to families on the 4th of January. It is highly recommended that pupils have this test. Further details from the DFE will follow (Department for Education). All those with permission will be tested before they start and then weekly thereafter. This test helps us identify pupils who are asymptomatic (who have the virus but without any symptoms). Those with symptoms should still follow the normal arrangements of staying at home and getting a full test. Those that are direct contact of anyone testing positive can then either self isolate or get 7 school days of testing within school to help keep pupils in full time education. This has been trialled in many schools, including Sedgehill, very successfully. All staff will also be tested weekly. The aim is to keep the whole school community as safe as we possibly can.
Testing positive / awaiting a test at home
If someone in the household is getting tested / awaiting a test result please make sure everyone living in the household stays at home until the test result arrives. If positive then the whole house has to isolate for 10 days. If negative everyone can go back to school / work. Please do not send in pupils if they have symptoms or someone else in your family have symptoms - please get a test straight away and await the result. This helps protect the whole community.
Government advice for Primary parents from the DFE - click here
Welcome to Trinity through school Lewisham
Executive Headteacher -
David Lucas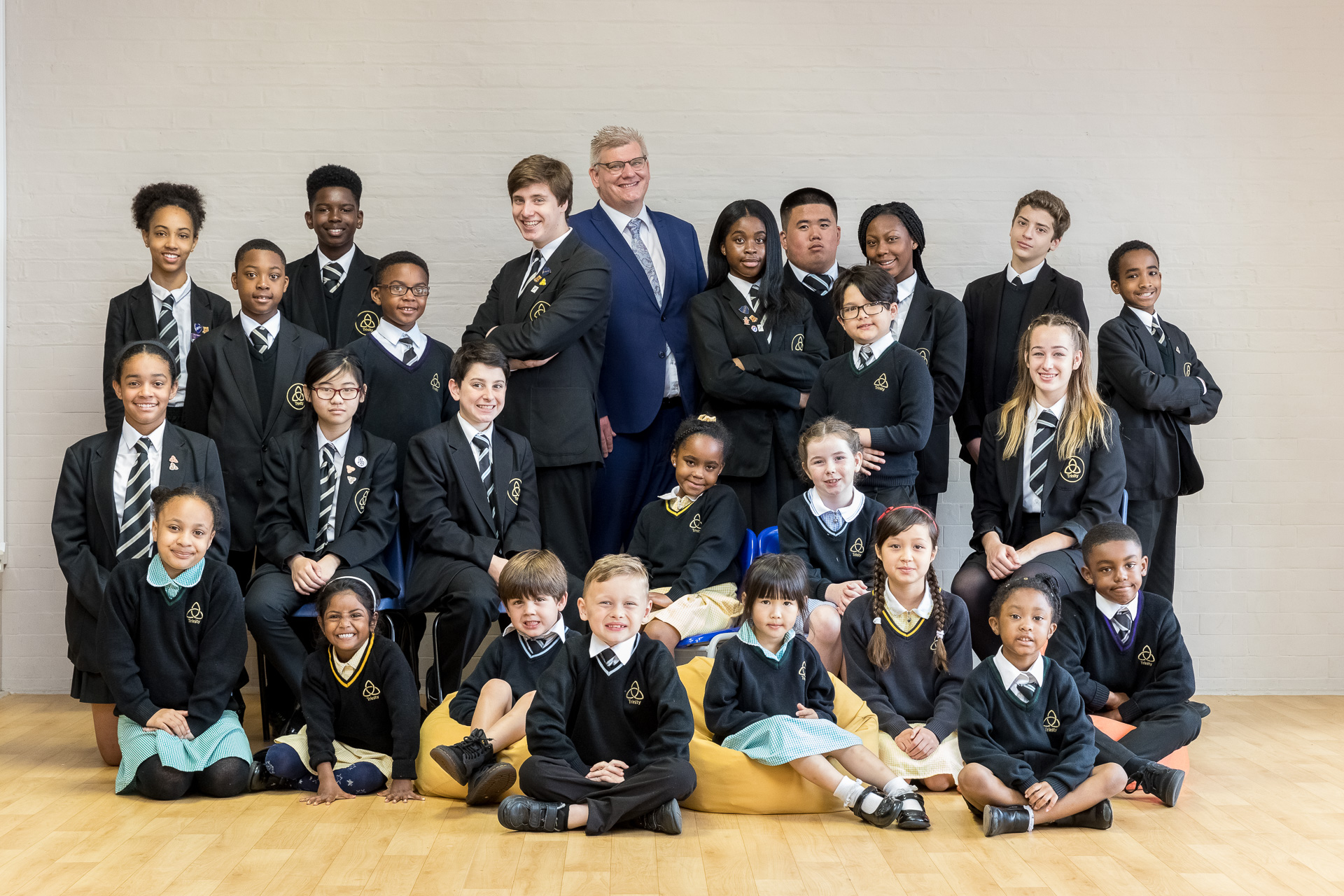 Head of School -
Darren Janes
Welcome to the primary phase of Trinity all through school, Lewisham. We are an incredibly unique school, blessed with hardworking, smiling pupils; dedicated and inspiring teachers; and a strong community of parents and friends.
Whether you are an existing member of our Trinity Family or are looking into joining, you will be warmly welcomed at our gates, in our corridors and in our classrooms.
To find out more about the learning that happens at Trinity, please visit our blog. Please also look at the Through School page of our website to read our Vision, Ethos and Values and to see the welcome from our Executive Headteacher - David Lucas.
To find out more about Chaplaincy at Trinity, please Click here